'Icing on the cake' – Mico University College wins RG Platinum Award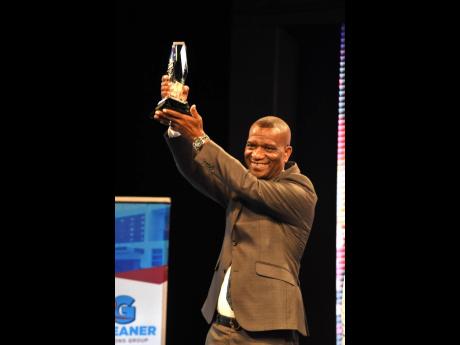 The Mico University College on Tuesday copped the 2022 RG Platinum Award for its transformative leadership, pioneering research, and exceptional contributions to education in Jamaica.
"It's a team effort!" President Dr Asburn Pinnock declared as he called Chairman Veront Satchell and Vice-President of Administration Rudolph Sewell to share the crowning moment on stage during the 43rd RJRGLEANER Honour Awards ceremony at the Television Jamaica studios.
In 2019, The RG Platinum Award replaced the Man of the Year title, which was first awarded in 1980.
Pinnock, who has headed The Mico for the last eight years, said he was delighted at the recognition.
"As an institution, you try to do what you are mandated to do and what you are commissioned to do, and you do not think about awards, but you think about providing service to the nation and, more importantly, to the nation who you train, and add value to their lives," he said.
"But then when you are recognised in this manner, it's icing added to the cake. You really appreciate it, and it gives you that kind of motivation to do more," he said.
The Mico's capacity to respond swiftly and effectively to critical educational challenges, notably its response to the urgent educational needs arising from the COVID-19 pandemic, highlighted what Pinnock described as a main feature of its modus operandi – its ability to adapt.
STAFF COMMENDED
"When COVID came, we had put all the measures in place for online learning and we had trained our staff, we had a department [dedicated to this], and this we did with very little resources," he said, while commending the staff and stakeholders for their commitment during that time.
In fact, he said the institution's adaptability is an integral reason it is still relevant 187 years after its establishment.
"One of the hallmarks of The Mico is its ability over the years … . It has longevity and is successful because it is always able to respond to the needs of society and the changes around it, and had to be for it to survive that long," Pinnock said.
The Mico is recognised for taking a leadership role in providing training in hybrid teaching, a vital skill set made more crucial by the challenges exposed by the COVID-19 pandemic. As a result of its initiative, the Ministry of Education engaged the university college to train 5,000 teachers in online teaching methodologies.
Its proactive approach to addressing societal education needs is also evident in initiatives that have paved the way for broader and more far-reaching programmes. Before the wider adoption of the STEM programme in Jamaica, The Mico was already laying the groundwork for its success. Under visionary leadership and the support of its stakeholders, it also initiated a transformative shift in the teaching of mathematics.
This commitment culminated in the hosting of the International Mathematics Summit in 2019, where nations shared best practices that were subsequently implemented to revolutionise mathematics education in Jamaica. Mathematics, as the cornerstone of scientific thinking, plays an integral role in the STEM curriculum.
Strategically, The Mico has played a pivotal role in the Jamaica STEM for Growth Foundation, which steers the programme's implementation across the island. This partnership, involving not just the academic community but also the private sector and the Government, unites various entities to ensure that teacher education remains a central focus in national decision-making.
TRADITION OF OUTSTANDING ACHIEVEMENT
"We acknowledge that we follow a tradition of outstanding achievement as evidenced by the amazing, impactful and far-reaching outcomes of our past recipients and we applaud the RJRGLEANER Group for continuing to foster and reward nationalism and excellence," he said.
The Mico has joined a select group to have won one of Jamaica's most prestigious awards, sharing the distinction with the likes of Usain Bolt, Shelly-Ann Fraser-Pryce, Gordon 'Butch' Stewart, Owen Ellington, Edward Seaga, Dr Christopher Tufton, Sir Florizel Glasspole, and 2017 Man of the Year, Professor Gordon Shirley.
Special mention goes to the other awardees this year in the categories of Sport – Shericka Jackson; Arts and Culture – Charles Town Maroons; Science and Technology – The GraceKennedy Foundation; Health and Wellness – Dr Lucien Jones; Business – the VM Group; and Voluntary Service and Other – Project STAR.
Special awards were given to Spur Tree Spices Limited – Business; The Sanmerna Foundation – Health and Wellness; and Her Flow Foundation – Voluntary Service and Other.
Veteran reggae artiste Fredrick Alphanso 'Freddie' McGregor received the Entertainment Lifetime Achievement Award.
"For 43 years, these awards have served as a symbol of our appreciation for those who have demonstrated exceptional initiative, accomplishment, and courage, resulting in an enhanced quality of life for Jamaicans," noted Anthony Smith, RJRGLEANER deputy CEO of print and digital services.
Gary Allen, the RJRGLEANER Group CEO, commended the awardees for being excellent role models and for their contribution to nation-building and pledged to continue highlighting their work.
"While I encourage you to continue to do good, you can depend on us in the group to continue this commitment, no matter what is happening, no matter what we have to report on, you can rely on us that we going to also unearth the things that are happening that are doing good in Jamaica for Jamaicans wherever they are," he said.